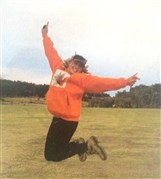 Emma Lovell
Expires
Tuesday, 8 December 2015
Emma is trekking to Happiness with Black Dog Institute
It's time for me to take on another challenge! This time for a cause so close to my heart, Black Dog Institute - raising awareness about mental health.

From the 8th-19th October, 2015, I'll be embarking on the Black Dog Trek to Happiness through Inspired Adventures to raise funds for Black Dog Institute.
In 2005 I suffered from Post Traumatic Stress Disorder (PTSD) which soon led to depression. It's hard to think back and image how low, dark and sad my days were. It's like slipping into a black hole and not knowing any way out. I was so fortunate at the time to have the love and support of my family, access to quality health care professionals through my school and a wonderful local GP who understood mental health. The Black Dog has come back to sit with me a few other times but after gaining skills and knowledge on how to manage my depression, I know that for the future, I will be ok and I can take this path to happiness.
It's not like this for everyone. Some people don't understand what mental health is and when they are in that black hole, don't see the help they can receive to find a way out of the darkness. The wonderful work of Black Dog Isntitute is helping those in need and educating our community on mental health. With their support, individuals and families can learn how to cope and live with mental health.
I trekked to Machu Picchu with Black Dog Institute in 2012 with an amazing team raising more than $60,000. I met a fantastic guy on that trip, Rory Hayward who was passionate about mental health and the work of Black Dog Institute. In January 2013, Rory sadly passed away from a heart condition. In signing up for this trip, I used the motto his friends have formed "What Would Rory Do? (WWRD)". I tribute this Trek to Happiness and my fundraising efforts to the memory of Rory.

Each year, Black Dog Institute aims to advance the understanding, diagnosis and management of depression and Bipolar Disorder and improve the lives of those affected by these mood disorders. Please help me in my cause by donating through my page.
Thanks so much for your support of this wonderful organisation and yet another of my CRAZY adventures!
HAPPINESS IS KEY!

Black Dog Institute
Black Dog Institute

One in five Australians are affected by mental illness each year.

Mental illness can be overwhelming, crippling and isolating. 

The Black Dog Institute is a not-for-profit organisation and world leader in the diagnosis, treatment and prevention of mental illness such as depression, bipolar disorder and suicide. 
We are the only mental health facility in Australia that combines clinical services, high quality translational research and education programs. We work to empower communities and help the stigma surrounding mental illness.

The Black Dog Institute has 4 important goals:



• to diagnose mental illness accurately and early,

• treat them using innovative, effective and accessible strategies,

• prevent their onset by understanding why and who they affect and

• to reduce the overall impact of mental illness and save lives.

Black Dog Institute's vision is for a mentally healthier world. 
A world where the onset of depression and suicide can be prevented and treated. With your help we can make this vision a reality. 
http://www.blackdoginstitute.org.au

Other Ways to Give

Become a Regular Giver - Monthly gifts provide us with an ongoing income stream. To make a monthly gift via direct debit from a bank account or from your credit card, please see here.

One off Donation - The Black Dog Institute relies on contributions from people just like you. With your help, we can expand our research programs, as well as build greater community awareness about mental illness.

By Mail - If you would prefer to mail your donation please download a donation form. Please send your form and donation to:
Black Dog Institute 
Hospital Road, RANDWICK NSW 2031
Cheques made payable to Black Dog Institute.
FUNDOMETER
Target
$3,500
Raised So Far
$4,071
Biggest Supporters:
Fiona Kendall: $285.16
Emma Lovell: $250.00